The Participatory Arts and Somatic Research Certification Program is an intensive educational program dedicated to integrating performance expression and somatic research with application in the fields of health, education, social change and the arts. The program is separated into three separate modules, along with intensives and weekend workshops. The curriculum includes the study of somatics, body sciences, process arts and performance disciplines. Combining creative engagement and practical skills, Participatory Arts and Somatic Research studies are integrated through self-directed projects, group projects, and performances. This certification provides pre-requisites required for the professional Somatic Movement Therapy Training (SMTT) taught by MOC co-founder Martha Eddy.

Modules are available to be produced at alternate locations, and MOC staff can discuss how to tailor program scheduling and curricula to meet your organization's needs.
Contact us for more information, or join our mailing list to keep up to date on our news and updates!

Graduate credit is also available for many of our workshops.
---
PROGRAM REQUIREMENTS
Original Module Format
Module 1: Somatic Education and Massage Training (5 weeks)

Module 2: The Socially Conscious Body: Process Arts and Facilitation (4 weeks)

Module 3: Improvisational Mind and Performance (4 weeks)
Each module will begin with a half-day orientation on Sunday followed by full-time classes, Monday through Friday. Students who are enrolled in the full Participatory Arts Program will be considered "core" students and will receive a Participatory Arts Certification upon completion. Please note that Core Students must complete the full modules - Module 1 has an abbreviated 3 week schedule for students not interested in massage certification, but the full 5 weeks must be completed for students pursuing a Participatory Arts Certification. We make every effort to tailor our program to meet the needs and schedules of incoming students. Any student who sets up a contract to complete a course of study toward certification is considered a matriculated student.
MOC Participatory Arts Certification Program

Module 1: Somatic Education and Massage Training
Module 2: The Socially Conscious Body: Process Arts and Professional Facilitation Training
(includes weekend workshop in Theatre of the Oppressed)
PLUS two weekend workshops in Body-Mind Centering and in Laban Movement Analysis
Module 3: Improvisational Mind and Performance
---
Module Courses
Courses in Module 1: Somatic Education and Massage Module (5 weeks) include the following
Experiential Anatomy
Developmental Movement
Alexander Technique
Bartenieff Fundamentals
Somatic Therapy based in the Hakomi Method
Integration Class
Authentic Movement
two weeks of Massage Training (provides certification as a Certified Massage Technician as a Somatic Educator) CMT-SE
Courses in Module 2: The Socially Conscious Body Module (4 weeks) include the following:
Liberation Voices
Process Work
Authentic Movement
Theatre of the Oppressed
Songs and Games for Community Building and Interventions
Tracking the Unconscious Facilitator
Basics of Facilitation Training
Going Deeper: Advanced Facilitation Training
Social Action Community Project
Courses in Module 3: Improvisational Mind and Performance Module (4 weeks) include the following:
Vocal Motion
Contact Improvisation
Body-Mind Centering® & Improvisation
Action Theatre
Performance & Composition
Authentic Movement
Individual workshops within each module are taught by MOC core faculty and guests, well-known artists and somatic practitioners. Individuals from the larger community are invited to join MOC Core Participatory Arts students by either attending single modules or taking individual workshops within modules. This provides a dynamic learning environment of students from many backgrounds.
---
Intensive Workshops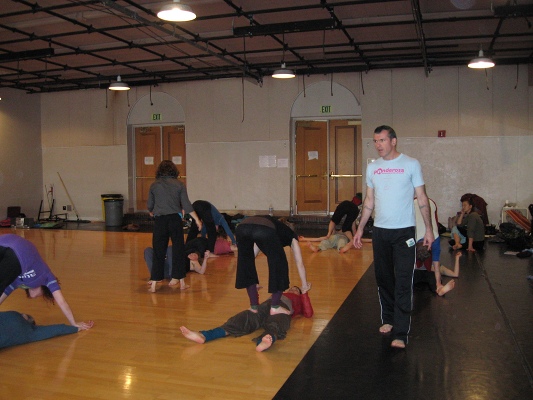 In addition to the three core modules, we also offer two intensives that can be taken separately.


Our Somatics of Presence workshop is available for students who are interested in pursuing additional work around theater, dance, composition, contact, and improvisation as performance disciplines.

For students interested in developing their group facilitation skills, we offer a professional two part facilitation training. Part One, "Basics of Group Facilitation," covers foundational elements of facilitation and Part Two, "Going Deeper: an Advanced Training," deals with hotter issues such as: power dynamics, race, privilege, ageism, etc. and how the personal relates to the political. This training is offered as part of the Socially Conscious Body Module and is required of all Certification students, but can also be taken independently.

Please note that these two intensives need to be taken in their entirety. Individual classes are not available to be taken by those not registered for the full intensive.

Course topics in the Somatics of Presence: Performance Intensive Workshop include the following:
BodyMind Centering ®
Laban Movement Analysis
Bartenieff Fundamentals TM
Contact Improvisation
Theater
Performance Lab
(Note: This intensive will include a public performance on Thursday evening of the second week of classes).
Course topics in the Professional Facilitation Training include the following:
Songs and Games for Community Building and Interventions
Liberation Voices
Tracking the Unconscious Facilitator
Basics of Facilitation Training
Going Deeper: Advanced Facilitation Training
---
Additional Classes
In addition, the core curriculum of courses in each module is supported through additional classes that serve to build community within the group and provide opportunities for deeper integration of the core material. These support classes include the following:

Orientation
Heart Circles (weekly check-in and community building process)
Singing & Movement
Practice Labs
Integration Classes
Group Advising
Authentic Movement
The support structure of the program deepens the learning process so that we connect our bodies, voices, hearts and minds as we become active participants in our own growth and well-being. These classes offer chances to explore the deeper layers of what we are learning within the context of a supportive community.
---
Advising, Study Groups, and Homework
As part of the training, matriculated students receive personal feedback, observation, and advising from faculty. Students and faculty work together to build a foundation that helps students integrate the material that is being taught. Advising sessions also help students to focus and express their personal needs and goals. Required assignments, projects, and performance work support students in bringing more depth to class material. Homework is shared in class to encourage cooperative learning among students and to provide more diverse exposure to faculty insights.
Students are required to participate in study groups and do integrative homework assignments using themes from Participatory Arts. There will be seven homework assignments during the course of the certification program, as well as some mandatory reading assignments. Students taking individual modules only will have some mandatory reading, and occasional homework assignments.
---
Projects and Performances
The Community Project in the Socially Conscious Body and the Final Performance in Improvisational Mind & Performance are key aspects of the educational experience and are required for the Participatory Arts certification. Students are encouraged to work together and practice newly gained skills during these events. These projects change year to year based on the interests of each group of students.
Moving On Center provides limited rehearsal space and a performance budget. Through application of participatory arts principles and methods, students discover how to engage an audience in their creative process. Exact fulfillment of these requirements varies depending on each student's desired focus.